Gold Credit Card
Enjoy greater flexibility when paying thanks to a higher spending limit.
Pay conveniently and securely. Benefit from conveniences and extras. With the Gold Credit Card, you get both.
Gold Credit Card at a glance
Higher limits

CHF 10,000 spending limit

Access to airport lounges

Priority Pass included

Bonus program

Collect twice as many UBS KeyClub points and spend them on great offers.

Mastercard / Visa for worldwide flexibility at an all-inclusive price
Including excess insurance for car rental
15% off car rental at Europcar
Including best-price guarantee for purchases
Optional UBS Travel Insurance Plus package available

Including Apple Pay, Google Pay or Samsung Pay

Order a Virtual Credit Card for free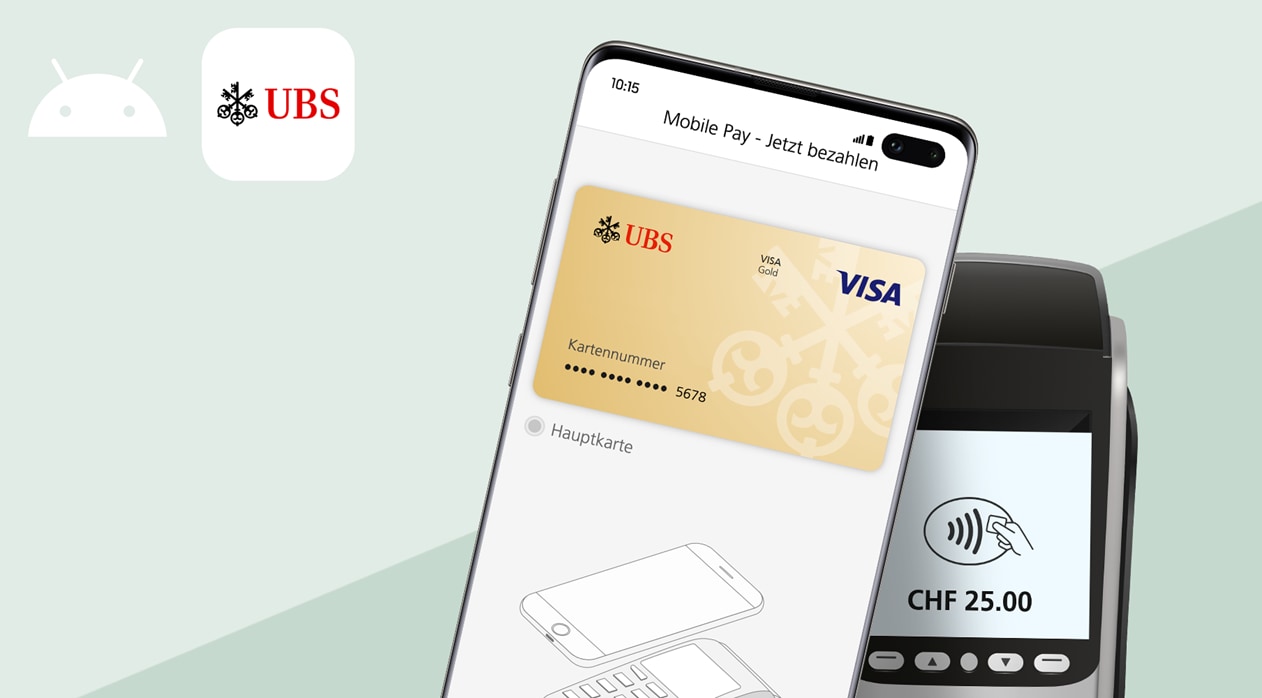 Using your smartphone as a credit card
Our Mobile Pay function lets you pay contactlessly with your Android smartphone instead of using a card.
Don't have a UBS account?

Save time at your branch: make an appointment to request your card.
Already have a UBS account?

Apply for your credit card directly in E-Banking at "Products > Cards".

Order additional free virtual credit cards free of charge.
Order your free virtual card in just a few seconds and enjoy the following benefits:
Thanks to your smartphone or smartwatch, you always have your card with you.
Pay faster online using the copy function in Mobile Banking
Environmentally friendly (no plastic card)
Benefit from KeyClub points and insurance services – just like the Gold credit card
Your credit card is not just a practical means of payment, it also comes with some useful additional benefits and insurance coverage.
How much do the cards cost?
The Gold Credit Card comes as a World Mastercard or Visa. The minimum age is 18 for credit cards and 16 for partner cards.
Prices without a banking package
Price in the first year: CHF 100, then CHF 200 per year
Visa / World Mastercard for partners: CHF 50 per year
Card currency: CHF

Pay in foreign currency worldwide with the best exchange rate
Do you often travel abroad or shop in foreign online stores? Then the UBS key4 premium card is perfect for you.
Frequently asked questions about Gold Credit Card