Connecting people, delivering results
Connecting people for a better world starts with us. And, whether we're investing in clients or in communities, creating better outcomes takes dedication and innovative thinking, along with a wide range of skills, experiences and perspectives. Those attributes describe our people: in every region and business, our employees power our continuous business success and our positive impact on society. As an employer of choice, it's our job to build – and sustain – an innovative and inclusive workplace that brings out the best in our employees, wherever they are on their career journey. As a founding member of the World Economic Forum's Good Work Framework, we're partnering with like-minded companies on metrics that support high-quality work worldwide.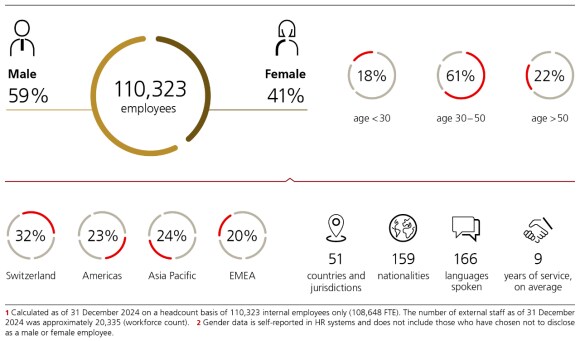 This infographic shows that we have 74,022 employees by headcount. 41% of our workforce is female, and 59% is male. 19% are under age 30, 59% are age 30-50 and 22% are over age 50. Our workforce is located 28% in Switzerland, 30% in the Americas, 22% in Asia Pacific and 20% in EMEA. Our employees come from 48 countries and 150 nationalities, they speak 151 languages and have 8 years of service, on average. All data was calculated as of 31 December 2022 on a headcount basis of 74,022 internal employees only (72,597 FTE).

Get to know us
Who we are and how we work together

 Want to know more about who we are and what matters to us?