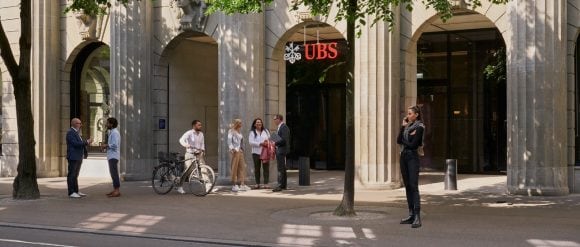 Creating sustainable value
Read more about our integration of Credit Suisse and what it means for you.
As of 12 June 2023, we have formally acquired Credit Suisse, less than three months after discussions about combining the two banks were started by the Swiss Federal Department of Finance, Swiss Financial Market Supervisory Authority (FINMA) and the Swiss National Bank. The transaction marks an exciting and challenging new chapter in our history, which has seen more than 370 financial institutions combine to form what UBS is today, as well as for Switzerland and the global financial industry.
As we move swiftly to integrate Credit Suisse, we're focused on creating a smooth and transparent transition for all involved. This web page is your go-to source for all the latest information related to the integration. We'll be updating this page regularly to help you stay informed about the integration and what it means for you.
UBS is secure and well capitalized
We have a fortified balance sheet and capital ratio as a result of the combination.
We expect the combined group to operate well above our CET1 capital ratio target of 13%
Committed to our capital return policy and a progressive dividend per share while temporarily pausing share buybacks
The combination will reduce the proportion of capital allocated to the Investment Bank to a maximum of 25% of risk-weighted assets
We are focused on maintaining UBS's conservative risk culture throughout the integration
Accelerating our strategy
The integration provides an opportunity to boost our existing strategy and brings enhanced growth prospects.
We are the only truly global player among leading wealth managers with strategic scale and complementary capabilities in the most attractive growth markets
The new group has around USD 5 trillion of invested assets and has become the No. 2 wealth manager in the world overnight
The transaction helps unlock earnings growth potential, allowing for reinvestment in our business over the long term to deliver best-in-class client services and advisory capabilities
Together, better for clients
The integration will be executed with one overarching principle: clients first.
An enhanced, combined offering will help clients achieve their financial goals, thanks to additional value, scale, services and global reach
Our increased scale will be a significant advantage to our clients as it increases reach and access, enabling us to work with the best and most successful hedge fund and alternative asset managers
Clients across a broader set of geographies will benefit from our highly complementary product offering
Fraud Alert
Please be aware that the integration of Credit Suisse and UBS creates a unique opportunity for fraudsters to contact our clients purporting to be from our organization or selling fake investment schemes from our entities. This could be a means to get information from our clients or to trick clients into sending money to a new account. Please be vigilant if you are contacted by an unknown party. UBS and Credit Suisse entities will never contact you by email or telephone with new bank account details. Before transferring money or sharing personal details, please contact UBS (or relevant bank) by telephone. If you are already a client, please contact your UBS or Credit Suisse advisor or contact UBS.
Further advice on staying safe online can be found at www.ubs.com/cybersafe.