Street View: What is new in China healthcare?
We recently conducted various in-person meetings with Chinese healthcare companies. Here are the highlights and investment takeaways.
Earlier in the year we travelled to several cities in China and visited a handful of companies in the healthcare sector. Our conclusions are that the sector has strong growth potential and is in a competitive position globally.
State-of-the-art health technology
Building new infrastructure that is both smart and innovative has been a top development priority for China – and that commitment has driven demand for medical devices and equipment. The prioritization of made-in-China scientific and technology services and equipment in government procurements also gave the domestically manufactured segment a big boost. Payment and reimbursement policies such as Diagnostic Intervention Packet (DIP) and Diagnosis Related Groups (DRG) favor Chinese medical equipment manufacturers.
As a result, we are seeing a bigger presence of domestic medical equipment in top-tier hospitals, which had been dominated by foreign brands in the past.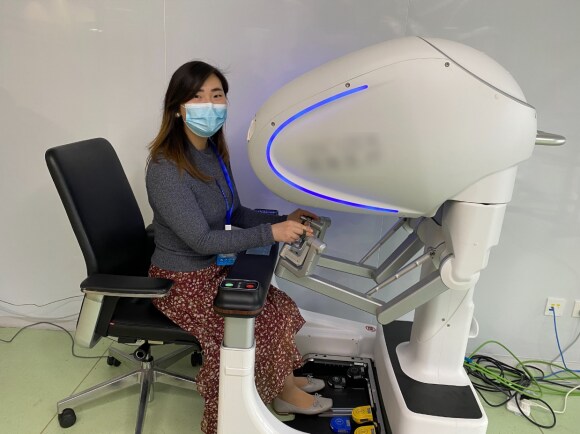 Improved conditions lift select segments
Besides the state-of-the-art medical equipment makers, bricks-and-mortar healthcare segments such as hospitals and retail pharmacies are doing well in the post-pandemic era.
Visitors are returning to hospitals in droves. Patient flow increased 20% in February from the month before based on our sampling of major public hospitals. Monthly sales revenues doubled in hospitals in Beijing and Shanghai compared to last year when mobility was restricted. Similar trends can be seen in private hospitals as more patients visit ophthalmology hospitals and traditional Chinese medicine (TCM) hospitals. We are also expecting the demand for drugs to normalize, which should in turn benefit pharmaceutical companies.
Retail pharmacies beat ecommerce platforms during the panic-buying and stockpiling of cold medication late last year, exposing the latter's lack of access along the healthcare supply chain. Retail pharmacies' then ability to fulfill and supply what was needed strengthens and solidifies their relationship with customers. With China's reopening, they are entering into a new expansion cycle with strong earnings potential. In the same way, retail pharmacies are well positioned to meet the needs for those suffering from long COVID and reinfections.
Traditional Chinese medicine (TCM) sold over-the-counter (OTC) may benefit from the policy tailwind, where they are not subject to pricing regulations and the government has been promoting the development of TCMs all along. Most TCM leaders are state-owned and have a long history to substantiate the effectiveness of their products and support a strong brand name. We also think potential state-owned enterprise (SOE) reforms and the introduction of incentive schemes in TCMs will further improve efficiency and optimize operation.
There are plenty of bright spots for the sector but risks remain. While business sentiment has improved meaningfully following China's reopening, some of the healthcare companies we visited were in a wait-and-see mode and cautious with capital expenditure. Tensions between China and the US are a concern. Chinese healthcare companies are actively exploring opportunities in emerging markets such as Southeast Asian and Latin American countries.
Although there is talk of a wave of COVID reinfections in China, we think the situation is largely under control. Not only is there warmer weather, but most people now have antibodies from previous infections and have developed immunity against different variants and the risk of severe illness.
On top of that, Chinese authorities appear to be far more prepared this time. For instance, the government has approved the country's first mRNA vaccine, as well as several made-in-China antiviral drugs – a direct result of the country's steadfast support to research and development (R&D).
China is also making inroads in cutting-edge technologies such as small interfering RNAs (siRNAs). This important advancement in molecular biology can be used to regulate the expression of genes, which has applicability in the treatment of hepatitis, renal diseases and, even cancer.
China's success in mRNA development, in our view, not only demonstrates its strong R&D capability, but it also enables Chinese companies to compete with leading global biotechnology companies.
Generative artificial intelligence (AI) has been in the spotlight in recent months, and there are potential commercial applications in the medical field. Several companies have already made progress in AI-assisted drug discovery as well as AI-powered clinical decision support systems, the latter of which we believe show promise in improving accuracy and efficiency in disease diagnosis and treatment.
Elsewhere in internet healthcare, companies lack a sustainable business model despite policy support in the past few years. However, Chinese pharmacy benefit management (PBM) companies could be the exception. Under the government's medical payment system reform, PBM companies can help control medical expenses by coordinating among pharmaceutical enterprises, hospitals, pharmacies and commercial health insurers. Using PBMs could alleviate budget pressure and release the government from playing that intermediary role alone.
Invest in industry leaders
Despite a volatile equity market environment, strong competitiveness from some Chinese corporations is giving us confidence to stay invested for the long term. That is particularly true for healthcare companies. Not only are they adapting to the various external challenges, they continue to invest in technology and R&D. We will continue to focus on industry-leading, high quality healthcare companies as they step into leading positions globally.
Make an inquiry
Fill in an inquiry form and leave your details – we'll be back in touch.

Introducing our leadership team

Meet the members of the team responsible for UBS Asset Management's strategic direction.