An advisor-centric (and client-centric) culture
How UBS helps you exceed client expectations and drive your business's growth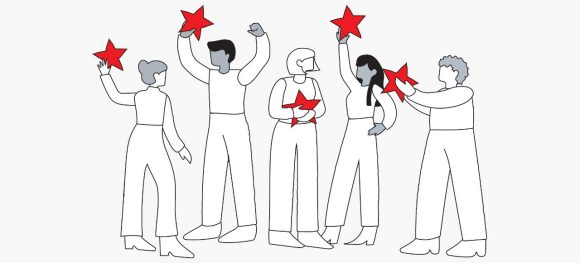 Although a firm's culture is sometimes hard to define, you think about it as you plan for your next opportunity. If culture is the glue that holds an organization together, how can you determine a firm's commitment to its people, especially financial advisors in growth mode?
At UBS, our advisor-centric culture is singularly focused on doing what is best for clients and financial advisors. Our purpose is clear, and it guides all our decisions: reimaging the power of investing and connecting people for a better world. This article provides an overview of our advisor-centric culture and how we support advisors and clients. 
As a client-focused firm, we think about the client experience every day. Warren Buffett puts it best when he suggests that the one thing every business must do is not just satisfy its clients but delight them.1 Jeff Bezos puts it another way when he talks about how Amazon transformed the way people shop today—it was achieved not by being competitor-obsessed but by being customer-obsessed.2
We couldn't agree more. At UBS, our focus on clients can be seen in our ability to provide customized solutions and foster an advisor-centric culture. You can automatically build a competitive moat when you give clients an exceptional level of satisfaction. 

The UBS mantra: exceeding expectations
Our mindset at UBS is about surpassing expectations and delivering an exceptional client experience. This approach flows throughout our entire organization, from how advisors deliver to clients, how the firm delivers to advisors and how our employees work together toward a common goal. In a clear signal that we are indeed surpassing client expectations, we are proud to have been awarded #1 in overall client satisfaction, according to the J.D. Power 2022 U.S. Full-Service Investor Satisfaction study.3
Our client-centric focus translates into an advisor focus, as we see an increase in our advisors' ability to be more engaged, productive and purpose-driven. Because everything we do has a client-centric focus—always starting by putting our clients' interests first—what results is our unique financial advisor experience, or fa(X).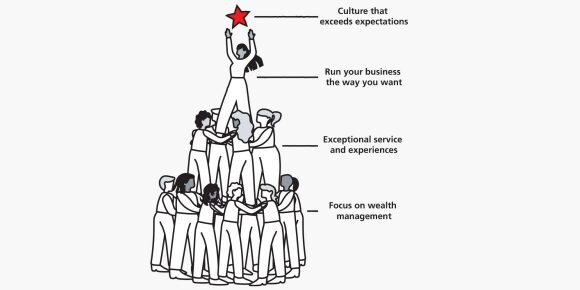 How an advisor-centric culture drives advisor growth
With clients and advisors at the center of everything we do, here are some ways our approach makes a difference:
Run your business the way you want—to achieve your highest level of success
Ours is an entrepreneurial culture that provides you with the highest level of autonomy and independence. You make the decisions about how you choose to grow your business. The ability to push upstream is somewhat unique to UBS. There are no limits when seeking new opportunities, either from an asset level or geographical perspective.
As you think about your UBS advisory "dream team," you have the flexibility to hire and train your team of professionals. You structure the team as you choose so that you can run your business with the most significant opportunity for growth. And once your dream team is assembled, you have the flexibility to grow and reward yourself in the way that works best for you, today, tomorrow and as you plan for your legacy.  

Give your clients exceptional service and experiences
Everything you need to serve your clients' complex needs is available at UBS. We understand that sophisticated clients require bespoke solutions, which is part of our commitment to client-centricity. For nearly 160 years, wealth management has been what we're known for and do best. In fact, UBS manages the largest amount of private wealth in the world and has the largest number of the world's billionaires as its clients.4
With a robust investment platform from which to choose, you can tailor solutions to meet your clients' exact needs. Clients value the objective advice our advisors can offer through our open architecture platform. You determine what solutions are best for your clients, selecting from our broad array of offerings, including areas where we excel such as sustainability and alternative investments.
We offer clients exclusive networking opportunities. Here are a few examples of how we help clients build communities around their passions and priorities:
The UBS Emerging Successors Program helps your clients support the next generation. This program provides a forum for your client's children to discuss the topics that are most important to them. Through engaging discussion and activities, attendees will have the opportunity to connect with and create a community of peers who share their wealth experience.  
The UBS Philanthropy Forum features philanthropists, social entrepreneurs and public leaders designed to inspire and empower clients. Clients will also walk away with practical guidance on how philanthropic aspirations can be converted into impactful actions and results.  
The UBS Autism Roundtable brings together clients and prospects to foster collaboration and to share best practices with their peers and other advocates affected by autism spectrum disorders. Attendees will engage in thoughtful discussions with various speakers and panelists, sharing personal stories to exploring collective impact. 
The UBS Optimus Foundation is the only client-facing foundation that co-invests alongside clients. Optimus provides philanthropic execution services to clients such as an offering of specific projects in the US and abroad that have been carefully vetted by our team of experts, match-funding toward specific projects, collective philanthropic portfolios and philanthropy insights trips. 
The UBS Global Communities are a unique offering for UBS ultra high net worth clients. It provides our clients with a platform to learn about areas they are passionate about, connect with peers of similar wealth and status who share their passion and allows for you to stay informed about what matters most to your clients.
Focus on what you (and we) do well—wealth management
Simply put, wealth management is UBS's core business, contributing nearly 68% of the bank's total revenues.5 UBS reinvests and dedicates resources to enhance our wealth management offering. This focus allows you to strengthen relationships—more simply and cleanly—in a way that benefits you and your clients.   
We pride ourselves on having the right size footprint across the globe. That means our advisors (and their clients) have greater access to senior leaders, key decision-makers, portfolio managers and product experts. Given UBS's "boutique feel," you can provide your clients with the personalized touch they deserve, with access tailored to their unique needs. 

When the time comes to transition from UBS, our strong compensation structure is equally advisor-centric, designed with your needs in mind. Our Aspiring Legacy Financial Advisor (ALFA) program helps you monetize your life's work and transition on your terms. It rewards you for your productivity, loyalty and growth. 
An advisor-centric culture that exceeds expectations
When thinking about your firm of choice, we understand how important a firm's culture is. UBS provides an advisor-centric culture focused on your growth so you can explore new ways to provide clients with experiences that surpass expectations and grow your business faster.
To learn more about how our advisor-centric culture can support your business growth or to apply for a Financial Advisor role, submit your contact information to be connected with a Field Leader.