Financial Planning
Our team has managed the Premier Advisory Services program for Accenture since 2009. Leveraging our expertise in Accenture's unique benefit plan, we craft personalized and comprehensive financial plans for our Accenture equity award participants.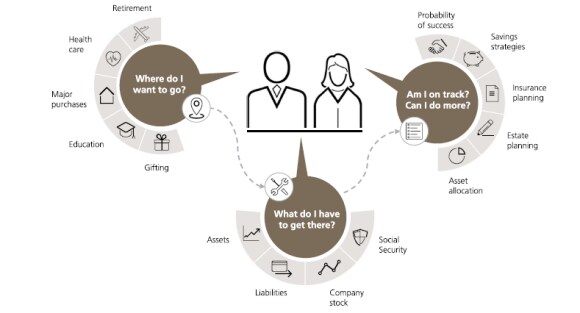 A UBS Financial Plan might include but is not limited to the following topics:

Retirement planning
Lifestyle review
Retirement Income assessment
Risk review
Pension and/or Social Security benefit analysis
Progress monitoring
Family needs planning

Education planning
Special needs child assessment and planning
Elder care planning
Long Term Care insurance
Credit and lending

Home loans
Securities-based lending
Commercial lending
Tailored lending
Business succession planning

Business needs review
Cash management and capital needs assessment
Business valuation
Succession plan documents
Executive compensation

Voluntary Equity Incentive Plan (VEIP) benefit plan considerations
Cash flow planning & tax efficient strategies with VEIP plan
Concentrated stock strategies
Expertise in highly regulated or complex areas (collateral loans, OTC option collars, etc.)
Insurance and liability management

Life Insurance
Long Term Care Insurance
Income protection: Disability insurance and business overhead insurance
Insurance as complement to investment plan
Estate planning considerations

Gifting & Philanthropy
Assess asset titling
Estate tax funding
Family dynamics and family meeting facilitation
Beneficiary Review
Confidence to pursue your goals
Our comprehensive structured advisory approach puts you in charge of your future by helping you address the financial goals and concerns that matter most to you. As part of this special offering with Accenture and UBS, you have the opportunity for a private discussion to help us understand and create a roadmap for the financial future you have always envisioned.