UBS AM funds mixed-use tower in Central London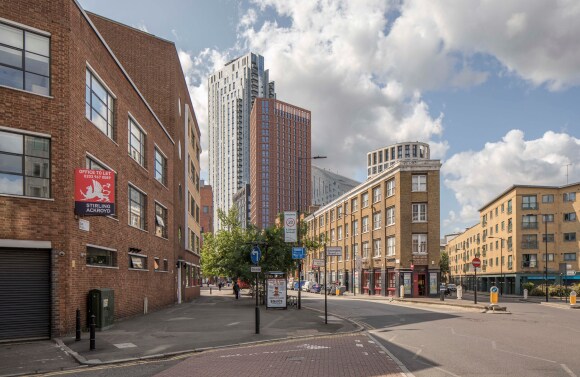 Transaction to provide equity funding for development of 23-storey asset near City of London financial district, with end development value over GBP 100m
Funding provided alongside partners BSW Land and Property and The Pickstock Group
Investment underpinned by long-term lease contract with established hotel operator, de-risking initial investment and providing an attractive return profile
London, 11 April 2022 - UBS Asset Management (UBS AM) Real Estate & Private Markets (REPM) today announces a deal to provide equity funding for the development of 39 East Road, a new hotel and office asset in Central London. The transaction is formed as a joint venture, with UBS AM REPM providing funding alongside development partners BSW Land and Property and the Pickstock Group, and, once completed, will have a value of over GBP 100m. The 23-storey building will include 18 floors of dedicated hotel space, above c.25,000 sqft of office space, providing a broad offering to tenants in an exciting Central London sub-market.
The development offers an attractive investment rationale, underpinned by a 30-year lease to hotel operator Motel One, providing stable and predictable inflation-linked cash flows and strong risk-adjusted returns. The office space at the site aims to facilitate new hybrid working models, and plans to achieve 'Excellent' BREEAM certification, underlining the project's sustainability credentials and providing for tenants seeking to improve their business' own sustainability credentials.
The asset, which will be owned fully by UBS, is situated in a prime location in Central London, adjacent to both the City of London financial district and the vibrant tech and social hub around Old Street and Shoreditch. The site provides close access to local transport links, alongside national and international rail transport from Liverpool Street station. Shoreditch has established itself as a thriving space for the technology sector, with a range of established and start-up technology firms placing their headquarters in the neighborhood, with the site's office space set to cater for this market.
Gijsbert van Riemsdijk, Head of Investment Management, EMEA ex DACH at UBS AM REPM, commented: "The development of 39 East Road presents an exciting opportunity for our clients. The asset is expected to provide attractive risk-adjusted returns driven by the 30-year pre-lease in place to a strong hotel operator, which accounts for approximately 70% of the end value of the scheme. We look forward to managing the development of the site in the coming years alongside our partners, with its location and profile aligning well with our positive outlook for the Central London market."
UBS AM REPM was advised on the transaction by Savills (occupational) and JLL (debt).
UBS provides financial advice and solutions to wealthy, institutional and corporate clients worldwide, as well as private clients in Switzerland. UBS's strategy is centered on our leading global wealth management business and our premier universal bank in Switzerland, enhanced by Asset Management and the Investment Bank. The bank focuses on businesses that have a strong competitive position in their targeted markets, are capital efficient, and have an attractive long-term structural growth or profitability outlook.
UBS is present in all major financial centers worldwide. It has offices in more than 50 regions and locations, with about 30% of its employees working in the Americas, 31% in Switzerland, 19% in the rest of Europe, the Middle East and Africa and 20% in Asia Pacific. UBS Group AG employs over 68,000 people around the world. Its shares are listed on the SIX Swiss Exchange and the New York Stock Exchange (NYSE).
Asset Management is a large-scale asset manager with a presence in 23 markets. It offers investment capabilities and investment styles across all major traditional and alternative asset classes to institutions, wholesale intermediaries and wealth management clients around the world. It is a leading fund house in Europe, the largest mutual fund manager in Switzerland, the second largest fund of hedge funds manager and one of the largest real assets investment managers in the world.
Make an inquiry
Fill in an inquiry form and leave your details – we'll be back in touch.

Introducing our leadership team

Meet the members of the team responsible for UBS Asset Management's strategic direction.