The sustainability in the Middle East
Sustainability has gained significant importance to the rapidly growing economies of the Gulf Cooperation Council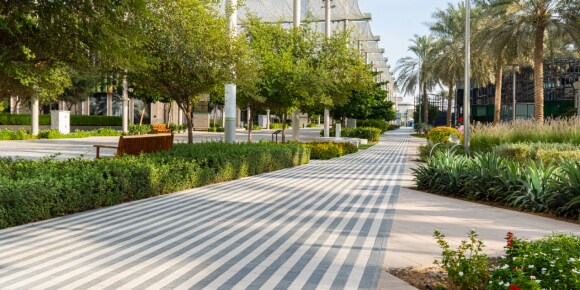 Sustainability has gained significant importance to the rapidly growing economies of the Gulf Cooperation Council, with half of the CEOs in the Middle East stating they have taken steps to mitigate climate change risks and address opportunities stemming from providing solutions to critical climate challenges, according to a 2023 survey by PwC. The region has seen strong government commitment to sustainability, with Saudi Vision 2030, Bahrain Vision 2030, and Oman Vision 2040 all incorporating critical environmental and social targets. The upcoming edition of the UN's flagship climate change conference—the COP28—is due to take place in Dubai in November 2023, bringing together policymakers, companies, investors, and civil society in search for viable solutions to limit global warming. These developments also reflect the Gulf region's position as one of the most vulnerable places on the planet when it comes to the negative effects of climate change. According to data from the World Bank, as of 2023, the Middle East is the most fresh-water deprived region in the world, with available fresh water resources expected to halve by 2030. 
Diversification of electricity sources is at the heart of the discussions on sustainability in the Middle East. While naturally addressing decarbonization, a diversified approach to electricity generation is inherently an economic choice. In addition to being leading exporters of fossil fuels, Gulf nations need to meet their own growing need for energy and electricity. Encouragingly, a sizable part of the region's infrastructure investments has focused on greenfield renewable energy and electricity-generation capacity in recent years. For instance, solar energy is seasonally correlated with the warmer times of the year, when the need for cooling and refrigeration—a key driver of the increasing demand for electricity—is needed. According to PwC, solar power plants in the region can expect two times more hours of full-load operation per year, compared to most European installations. Countries like Kuwait, Saudi Arabia, and Oman are well-suited for wind power generation.
Social issues also remain critical for the development of the region, with investments in healthcare and education on top of government agendas. According to data from Euromonitor, the GCC had the highest growth in healthcare capacity globally between 2010 and 2020. Moreover, the Middle East healthcare network EMERGE calculated that the combined value of health-tech companies in the Middle East and North Africa (MENA) region has increased 22-fold since 2016. While some of this investment is explained by the region's drive to become a leading destination for medical tourism, it lays a good foundation to build on critical investments in access to healthcare services more broadly. In fact, in 2020, Abu Dhabi became the first country in the region to issue a social impact bond to address healthcare and other critical social issues such as education and economic inclusion.