Q3 equity market outlook: too little, too late?
Central banks have started to act in the face of accelerating inflation, but is it too little, too late? Here, the Concentrated Alpha equity team look at four key indicators that provide insight as to where we may be headed next.
 
US consumer confidence fell to the lowest level in 16 months. Higher energy prices will have a negative impact on households' purchasing powers.
US Consumer Confidence Index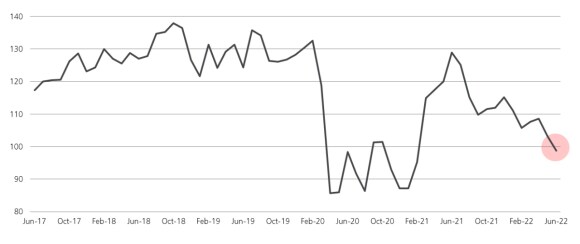 The Consumer Confidence Index reflects prevailing business conditions and likely developments for the months ahead. This monthly report details consumer attitudes, buying intentions, vacation plans, and consumer expectations for inflation, stock prices, and interest rates. Index is rebased to 100 as at 1985.
US housing activity is starting to slow down due to higher financing costs

National Association of Homebuilders Housing Market Index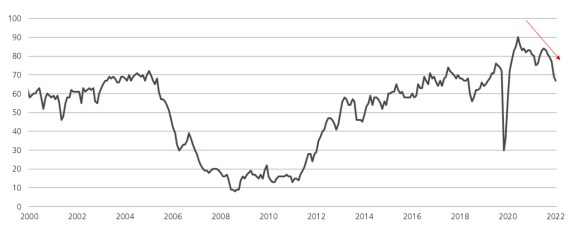 US housing activity has slowed since November 2020, as shown by the National Association of Home Builders Housing Market Index
We are seeing signs of inflation of goods rolling over. Supply chain bottlenecks are easing based on the market indicators below.

 
World container freight benchmark vs. Baltic Dry Index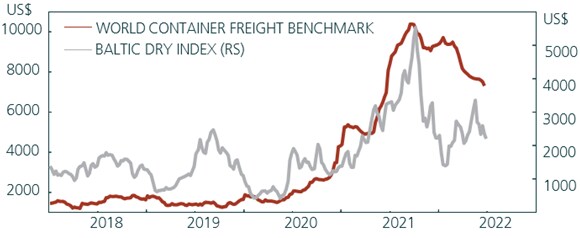 World Container Freight Benchmark versus the Baltic Dry Index, both easing since the end of 2021.
ISM Supplier Deliveries Index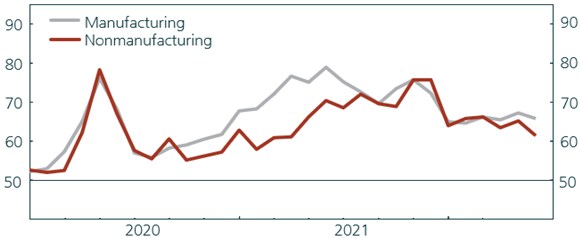 ISM Supplier Deliveries Index for manufacturing and non manufacturing deliveries has been dropping since the end of 2021.
Ports of LA and Long Beach: no. of ships backed up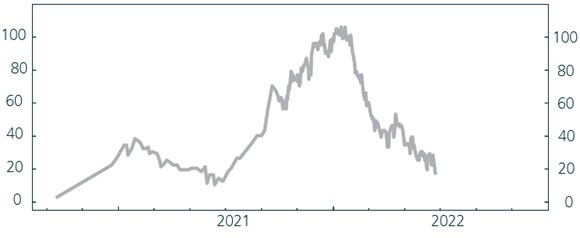 Level of ships which are backed up in the ports of LA and Long Beach has dropped since the beginning of the year.
Chart shows used car prices as shown by the Manheim Used Vehicle Value Index, starting to come down over the past month.

Make an inquiry
Fill in an inquiry form and leave your details – we'll be back in touch.

Introducing our leadership team

Meet the members of the team responsible for UBS Asset Management's strategic direction.