Asia in the mid-cycle, with a steady China and an innovation surge across the region
Year Ahead 2018 regional outlook: Asia
29 November 2017
This article is part of the UBS House View Year Ahead 2018, our yearly outlook on markets. You will find investment ideas and portfolio implications in the full report.
Asian markets rose strongly in 2017, notching up their greatest gains in eight years as the recovery in trade and corporate profits lifted regional activity. Upside surprises to economic growth, downside surprises to inflation, and China's steady policy hand helped sustain the regional rally amid tensions on the Korean Peninsula and a volatile US political climate.
Before investors position for 2018, they need to address some key questions: Where does Asia stand in the economic cycle? Can China continue to balance reform and growth? Will innovation occupy the driver's seat? How will the recent increase in oil prices and narrowing output gaps affect inflation, monetary policies, and exchange rates?
We're positive on the economic outlook and are keeping a risk-on stance as we head into 2018, but the uncertainties about monetary policies and geopolitics mean that investors should remain well-diversified.
Where is Asia in the economic cycle?
We think it is in mid-cycle. Growth is leveling out and the focus is shifting from trade recovery to investment and domestic consumption. Chinese investment should moderate, but we expect Southeast Asia to spend more and real investment growth to accelerate. Inflation should rise as higher oil prices push through to headline prices and greater investment and narrowing output gaps lift core measures. Asian central banks will likely turn more hawkish and gradually raise rates from 2018.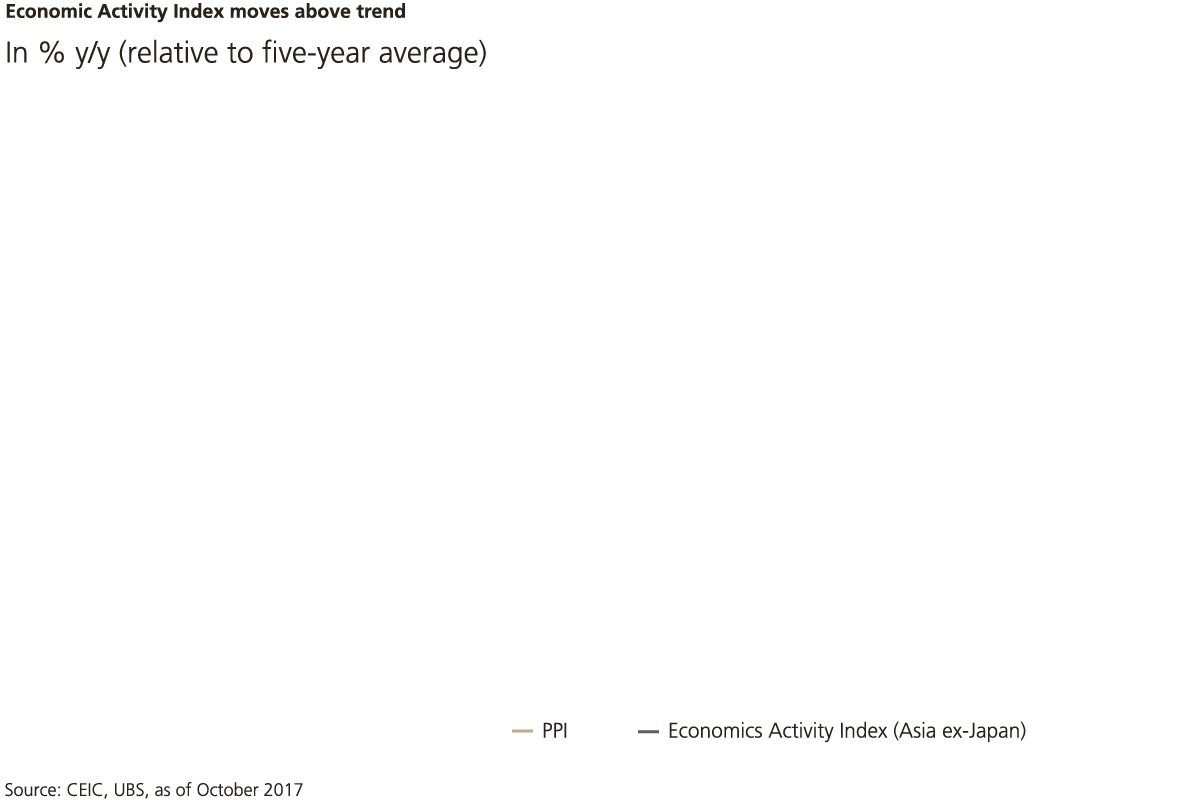 Can China keep balancing reform and growth?
At the 19th Party Congress, Chinese President Xi Jinping consolidated his power further and re-emphasized his "Chinese Dream" of the country becoming a fully modernized socialist state by 2035 and a leading global power by 2050. He also affirmed China's commitment to pursuing structural reforms while deleveraging and containing financial risk, and stressed the need for higher-quality growth.
Environmental protection, state-owned enterprise (SOE) reforms, and capacity reduction plans will likely broaden out over the coming year, while the liberalization of domestic markets will be gradual. Other priorities include becoming an innovation leader and the One Belt One Road initiative – Xi's strategic platform to project China as a responsible superpower. GDP growth should moderate to 6.4% in 2018. Downside risks include a slowing housing market and a breakdown in China-US relations, although the latter appears remote.
China is much more important to the world now than ever before. This increased importance stems not just from the size of its economy but also from its growing global influence. Political uncertainty in the US and Europe is also leaving a void in global leadership for China to fill. The One Belt One Road initiative suggests greater involvement in shaping the current geopolitical environment.
Despite capital controls, the yuan's internationalization has not slowed. Among its recent examples are China's loosening of foreign ownership limits on financial companies, the increased use of the yuan as a reserve currency (following its inclusion in the IMF's "special drawing rights" basket of major currencies), the launch of CNY-denominated oil and gold contracts, and the extension of China's bilateral currency swap agreements with various countries. Also, MSCI's inclusion of Chinese A-shares into its benchmark indexes next year should prompt greater foreign participation in China's onshore capital market, as China's weighting in global investors' portfolios is currently only 3%.
Is innovation Asia's next driving force?
We expect innovation to fuel Asia in the year ahead and beyond. The region has rapidly narrowed the innovation gap versus developed markets thanks to a swift rise in tertiary educated workers, greater research and development (R&D) spending, and pro-innovation policies. China's R&D outlay will likely exceed the US's in 2018, and Asia will likely overtake the US and EU combined by 2020. Innovation in areas like the environment, automation, robotics, and healthcare, as well as in niche consumer applications, could accelerate Asia's economic transition, lift pricing power, and raise the prospects of a further rerating.
The first pillar powering Asia's emergence as an innovation power is its growing talent pool. Access to such a vast and affordable talent pool acts as a major competitive advantage for the region, in our view. A case in point is that R&D employees constitute 45% of total staff at Chinese internet companies, versus 25% for their US peers.

The second is increasing access to capital and R&D spending. Asia's innovation centers are starting to rival Silicon Valley, while Asian companies are designing successful business models and attracting numerous venture capital (VC) investments. Also, as highlighted in our October edition of Investing in Asia Pacific, Asian firms are reducing capital expenditure intensity and shifting their spending toward areas like R&D, helping expand their margins.
And the third pillar is favorable government policies that aim to boost companies' innovation capabilities. They include China's "Made in China 2025" initiative, India's "Digital India" roadmap, Japan's push for a cashless society ahead of the 2020 Olympics, and Singapore's "Smart Nation" plan. All of these programs aim to support innovation-based business models and ease the economic transition toward new economy-based sectors by generating employment.
Explore the UBS House View Year Ahead 2018 online content