UBS consumption indicator: has it bottomed out?
After declining in November, the UBS consumption indicator showed a slight recovery of 0.14 points in December. The UBS economists are confident that the consumption indicator has bottomed out and believe it could rise over the course of the year.
Having declined in November, the consumption indicator for December rose from 0.78 to 0.92 points. As in previous months, the indicator was boosted by the continually high volume of new car registrations of up 7.4% year-on-year in December (November: +13.9%). Another factor in the increase was the retail sector's performance, which, although still at -12, showed a recovery from the previous months. All other sub-indicators remained unchanged at their low levels.
The UBS economists do not rule out that the consumption indicator has passed its trough and that consumer sentiment will brighten as the year progresses. This view is supported by the November retail figures, which exhibited inflation-adjusted growth of almost 2% year-on-year. Furthermore, the persistently high immigration of labor force is likely to continue to support domestic consumption. Immigration grew slightly in the past year compared to 2010 and 2009, increasing the permanent resident population by a probable 1.2% in 2011 (after 1.1% in 2009 and 2010, respectively). This immigration trend is likely to hold, boosting domestic consumption throughout 2012.
UBS Consumption Indicator and private consumption in Switzerland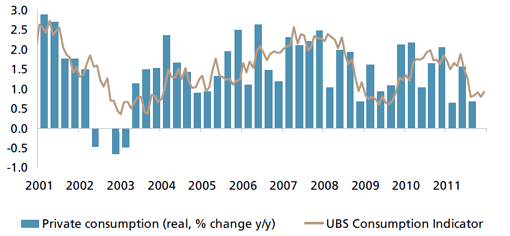 (Private consumption: year-on-year change, in %; UBS Consumption Indicator: index level)
Calculation of the UBS Consumption Indicator
The UBS Consumption Indicator signals private consumption trends in Switzerland with a lead time of about three months of the official figures. At roughly 60%, private consumption is by far the most important component of Swiss GDP. UBS calculates this leading indicator from five consumer-related parameters: new car registrations, business activity in the retail sector, the number of domestic overnight hotel stays by Swiss residents the consumer sentiment index, and credit card transactions made via UBS at points of sale in Switzerland. With the exception of the consumer sentiment index, all of this data is available monthly.
UBS AG
Contact
Daniel Kalt, Chief Economist Switzerland
Tel. +41 44 234 25 60
Caesar Lack, Wealth Management Research
Tel. +41 44 234 44 13
Sibille Duss, Wealth Management Research
Tel. +41 44 235 69 54

UBS publications and forecasts for Switzerland: www.ubs.com/wmr-swiss-research