UBS consumption indicator: Down again in November
The UBS consumption indicator fell by 0.09 points in November, propped up only by a sustained high level of new car registrations. UBS expects private consumption to pick up in 2012.
The UBS consumption indicator fell by 0.09 points to 0.81 in November, reversing the previous month's increase. As in previous months, the consumption indicator benefited from the strong rise in new car registrations (November: +13.9% year-on-year), while the other sub-indicators used to calculate the consumption indicator are at recession levels.
The UBS consumption indicator allows readers to directly deduce the inflation-adjusted private consumption growth rate. The current index implies that private consumption growth amounted to 0.8% – the current UBS forecast for private consumption growth in 2012, however, is slightly higher at 1.1%. The reason for this discrepancy might be that the consumption indicator partly reflects the pessimistic outlook of the retail sector, which is suffering from falling prices and thus falling earnings, as well as the fact that people are doing more of their shopping abroad. Consumers, on the other hand, benefit from these falling prices, as their purchasing power is boosted. This leads UBS to conclude that private consumption will continue to be an important pillar of the Swiss economy in 2012 with a growth rate of more than one percent.
UBS Consumption Indicator and private consumption in Switzerland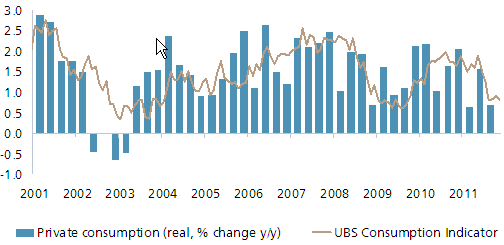 (Private consumption: year-on-year change, in %; UBS Consumption Indicator: index level)
Calculation of the UBS Consumption Indicator
The UBS Consumption Indicator signals private consumption trends in Switzerland with a lead time of about three months of the official figures. At roughly 60%, private consumption is by far the most important component of Swiss GDP. UBS calculates this leading indicator from five consumer-related parameters: new car registrations, business activity in the retail sector, the number of domestic overnight hotel stays by Swiss residents the consumer sentiment index, and credit card transactions made via UBS at points of sale in Switzerland. With the exception of the consumer sentiment index, all of this data is available.

UBS AG
Contact
Caesar Lack, Wealth Management Research
Tel. +41 44 234 44 13

Sibille Duss, Wealth Management Research
Tel. +41 44 235 69 54
UBS publications and forecasts for Switzerland: www.ubs.com/wmr-swiss-research