UBS consumption indicator: Recovery continues
In October, the UBS consumption indicator rose again by 0.09 points. A continuously high number of new vehicle registrations, benefitted by the present currency situation, is boosting the consumption indicator further.
At 0.91 points in October, the UBS consumption indicator registered a marginal increase after a slight rise in September. In the three months from June to August, the indicator had fallen dramatically. New vehicle registrations (up 11.8% year-on-year) boosted the consumption indicator again last month. The indicator's comparatively low level is due to ongoing poor business activity in the retail sector as well as consumer sentiment, which SECO surveys as continuing to decline.
The strong franc encourages consumers to shop abroad. This is reflected in the poor business activity in the Swiss retail sector on the one hand, while on the other hand the number of newly registered vehicles remains high: buyers can benefit significantly from direct vehicle imports and currency discounts. Despite the economic slowdown, we anticipate healthy growth in private consumption of roughly 1 percent both this year and next, buoyed by low interest rates, which are expected to remain low for the time being, and continued immigration.
UBS Consumption Indicator and private consumption in Switzerland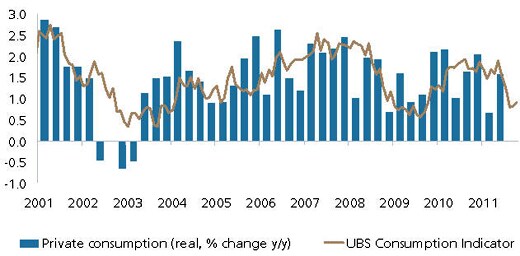 (Private consumption: year-on-year change, in %; UBS Consumption Indicator: index level)
Calculation of the UBS Consumption Indicator
The UBS Consumption Indicator signals private consumption trends in Switzerland with a lead time of about three months of the official figures. At roughly 60%, private consumption is by far the most important component of Swiss GDP. UBS calculates this leading indicator from five consumer-related parameters: new car registrations, business activity in the retail sector, the number of domestic overnight hotel stays by Swiss residents the consumer sentiment index, and credit card transactions made via UBS at points of sale in Switzerland. With the exception of the consumer sentiment index, all of this data is available.

UBS AG

Contact

Daniel Kalt, Chief Economist Switzerland
Tel. +41 44 234 25 60
Sibille Duss, Wealth Management Research
Tel. +41 44 235 69 54
UBS publications and forecasts for Switzerland: www.ubs.com/wmr-swiss-research